Your Initial Visit to Rock Hill Eye Center
When coming to Rock Hill Eye Center for your appointment, please remember to bring the following:
Photo ID
Insurance Cards
Prescription Medications
Physician Referral (if your insurance requires it)
For your convenience, we have our required patient forms available for you to download, print, and complete.
Office Policies
Please review the following office policies. We offer the following information in order to familiarize you with our practice. Please take a moment to read through our policies. We look forward to assisting you with your eye care needs.
FIRST VISIT
Effective November 1, 2009, federal law requires all healthcare practices to obtain, verify, and record information that identifies each new patient.
WHAT THIS MEANS FOR YOU: When you present for your first visit with us, we will ask for your name, address, date of birth, and other pertinent information that will allow us to identify you. We may also ask to see your driver's license or other identifying documents. We appreciate your cooperation.
Please arrive 30 minutes prior to your appointment time to allow time for your chart to be prepared.
ESTABLISHED PATIENT VISITS
All established patients need to arrive 15 minutes prior to appointment time and bring your current insurance cards and a list of your current medications. You will be asked to verify your information on file at check in to ensure that the information is accurate, especially if it has been three or more years since your last visit.
PATIENTS WITH PHYSICAL OR MENTAL LIMITATIONS
Patients with physical or mental limitations must be accompanied by a family member or caregiver throughout the entire exam.
MEDICAL NECESSITY
Please be aware that your medical insurance will only cover what they deem to be medically necessary. Insurance companies have their own policies as to what services they will cover. While your physician may feel it is necessary to perform a service, your insurance company may not agree. We cannot guarantee a service will be covered, but we will be happy to discuss an estimated charge in the event you may choose to pay out-of-pocket for the visit.
AUTHORIZATIONS/REFERRALS
You are responsible for obtaining any authorizations or referrals required by your insurance company. You will need to check your insurance policy to see if you need an authorization or referral in order to see a specialist. If you do not have a required authorization, you may be responsible for your visit or may want to reschedule your appointment.
PATIENT RESPONSIBILITY
Self-pay patients and patients with insurance co-pays are expected to make payment on the day services are rendered. If you are not prepared to make payment the day services are rendered, you may be asked to reschedule your appointment.
SIGNATURE REQUIREMENTS
A patient must be at least 16 years old to sign several of our required forms. Minors under 16 years of age must be accompanied by a parent or legal guardian (with proof of guardianship). Forms may be signed before the day of visit by parent or legal guardian. Relatives are not considered legal guardians unless it has been stated by the court system.
PAST DUE BALANCES
Any past due balances will be due at the time of your routine eye exam. If your exam is not medically necessary and you have an outstanding balance which you are not prepared to pay along with the current exam, you will be asked to reschedule your appointment until after the outstanding balance is paid.
RETURNED CHECK POLICY
When paying for your visit with a personal check and the check is returned for any reason, the check will be re-deposited one more time. After that, you are responsible to come into the office and pick up the check and pay the check amount plus a $30 fee in cash. you would not be able to pay with a personal check for future visits.
LATE ARRIVALS
If a patient arrives 15 minutes late for an appointment, they may be asked to reschedule, which will be left to the physician's discretion.
CANCELLATION POLICY
When it is necessary to cancel an appointment, please call no later than 24 hours prior to your appointment time. This allows us enough time to offer the opening to another patient.
EMERGENCY CARE
Our practice offers 24 hour emergency care coverage. In the event of an emergency, call our office at 803-328-0168 and our answering service will contact the physician on call. You will receive a call back from our physician, who will instruct you what to do.
MINORS IN OFFICE
Please monitor your children at all times. We do not permit running, screaming, or jumping around in the office. Do not allow your children to climb or walk on the furniture
TELEPHONE IN OFFICE
As a courtesy to our patients, we have placed a telephone in the front lobby. This phone does not permit long distance calls and is here for the use of our patients being seen.
CareCredit
Rock Hill Eye Center offers a wide variety of payment options to our patients. We recently started accepting Care Credit. Care Credit is "the credit card just for your health and beauty needs." We offer this option to help patients with medical procedures, but it can also cover any cosmetic procedures offered by Dr. Rhonda Barrett and multifocal lens packages.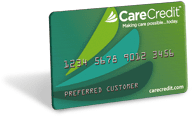 To apply for Care Credit, you can simply go to their website at www.carecredit.com or call them toll free at 1-800-365-8295. Our patients also have the option of applying directly in our offices. The process is simple and allows you to get your approval within minutes.
To find out more or if you have any questions, please contact our office!