Our services
Cataract Surgery
Our Cataract Surgeons Can Give You Clearer Vision
When a cataract causes bothersome vision problems that interfere with your daily activities, your ophthalmologist may recommend surgery to remove the cataract. Here at the Rock Hill Eye Center, our cataract surgeons will care for you at every step of the process, from diagnosis to recovery. Our ophthalmologists will work closely with you to manage your condition and identify when the right time for surgery is for you.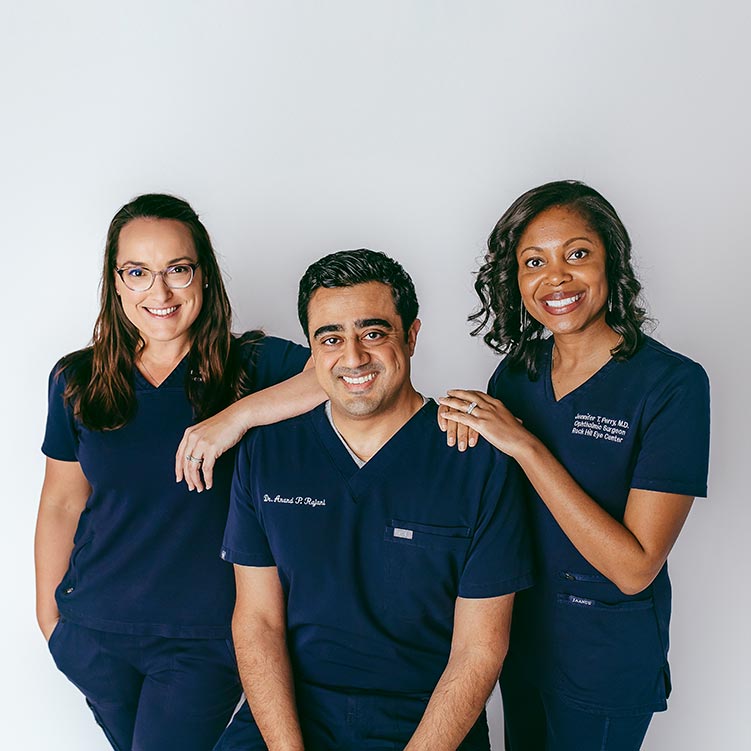 Our Cataract Surgeons
Dr. Wigington
Dr. Rajani
Dr. Perry
How Do I Know if I Need Cataract Surgery?
A cataract may not need to be removed right away if your lifestyle isn't significantly affected. In some cases, simply changing your eyeglass prescription may help to improve your vision. Contrary to popular belief, a cataract does not have to be "ripe" to be removed. However, once you are diagnosed with a cataract, your ophthalmologist needs to monitor your vision regularly for any changes. When the cataract begins to significantly affect your lifestyle, and you decide that it is time for surgery, our ophthalmologists will work with you to determine the type of cataract surgery that is best for you.
What Happens During Cataract Surgery?
With cataract surgery, your eye's cloudy natural lens is removed and replaced with a clear artificial lens implant (called an intraocular lens or IOL). You and your ophthalmologist will discuss the cataract surgery procedure, preparation before surgery, recovery time, benefits and possible complications of cataract surgery, cataract surgery costs, and other important information before you schedule your procedure.
Please allow 24-48 business hours to be contacted regarding your appointment request. We look forward to seeing you soon.
* If this is a medical emergency, please call 911 or go to the nearest emergency room.
Contact Us Today
Schedule Your Appointment
Information
Additional Cataract Services
General Information
Don't let cataracts diminish your view of the world. Our cataract surgeons can implant lenses to give you clear—or even corrected—vision.
Standard v. Refractive Cataract Surgery
Learn about the difference between standard and refractive cataract surgery.
Surgery Patient Information
If you require cataract surgery, we will schedule your procedure at our office.